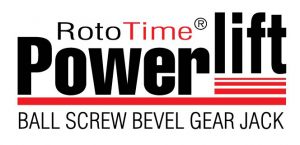 PowerLift- Bevel Gear Screw Jack: Advance from having Screw-Jack and Bevel Gearbox as
a separate unit to a combined Miter bevel gearbox and Screw Jack in a single housing. The New Bevel Jack product will save you money by offering less maintenance and fewer components. Rototime can provide all the system parts, design, test with your process goal and provide a turnkey solution.
Rototime– Rotating Bevel Gear Jack has a lift shaft that moves a traveling nut up or down along the lift shaft. The lift shaft is fixed to the bevel gear. The lift shaft is made with a predetermined travel length.
System Solution: RT-PowerLift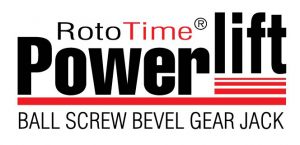 Bevel Gear Jacks
Shafts
Couplings
Motor/Drive
Drawings
Download: Literature >> Click here to download
Sizes available:
1/2 Ton
2 Ton
2.5 Ton
3 Ton
Ratio: 2:1, 1:1
Type: Ball Screw or Acme
| Model | R-PL16 | R-PL20 | R-PL25 | R-PL32 |
| --- | --- | --- | --- | --- |
| Rated Dynamic Load (N) | 1000 | 2000 | 3000 | 5000 |
| Screw Diameter and Lead | 16,5 | 20,5 | 25,5 | 32,5 |
| | 16,10 | 20,10 | 25,10 | 32,10 |
| | 16,16 | 20,20 | 25,25 | 32,20 |
| | | | | 32,32 |
| Gear Ratio | 1:1 | 1:1 | 1:1 | 1:1 |
| | 2:1 | 2:1 | 2:1 | 2:1 |
| Max Input Power (kW) | 0.75 | 1.5 | 2.5 | 4 |
| Max Input Speed (rpm) | 1000 | 1000 | 1000 | 1000 |
| Efficiency (%) | 45 | 45 | 45 | 45 |
| Housing Material | 6061 Aluminum | 6061 Aluminum | 6061 Aluminum | 6061 Aluminum |
---
Options: Traveling Nut, Acme or Ball Lifting Screw
---
Advanced system design support